Don't we in Life Sciences excel at generating abbreviations and acronyms! For example, do you know your COA from your PED or PPI? Or PEE[1] from PRO[2]? If you don't, an explanation will be forthcoming in this edition of the Regulatory Rapporteur.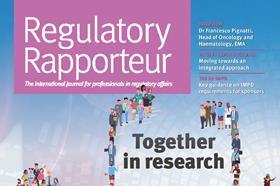 Regulatory Rapporteur
January 2023 | Volume 20 | No.1
During recent years, attitudes towards patient involvement in drug development have changed significantly. Typically, healthcare stakeholders (health technology cssessment (HTA) bodies, regulatory authorities, industry, academia) thought of patients mostly as clinical trial participants with their contribution limited to data provision. However, the drug development paradigm is shifting to deliver medicines that patients truly value. It is now recognised that improved patient involvement can drive the development of innovative medicines that deliver more relevant and impactful patient outcomes and help make medicine development faster, more efficient, and more productive. It can lead to better prioritisation of early research, improved resource allocation and trial designs that better reflect patient needs by addressing potential barriers to patient participation, and enhance recruitment and retention.
With discussions about patient involvement in drug development intensifying, we witness the emergence of regulatory initiatives aimed at facilitating patient engagement (PE). Reinforcing patient relevance in evidence generation was identified as a key priority for the regulators, with initiatives such as Patient-Focused Drug Development – PFDD FDA Patient-Focused Drug Development Guidance Series for Enhancing the Incorporation of the Patient's Voice in Medical Product Development and Regulatory Decision Making) from the US FDA, and the EMA holding a multi-stakeholder workshop on patient engagement data (PED) in September 2022.
Regulatory authorities are encouraging the submission of PED, including patient preference information (PPI). Kerrie-Anne Ho takes us on a deep dive into PED, where she explores how an integrated approach to collecting PED at industry level, to maximise drug development efficiencies, optimises research efforts and benefits stakeholders. Carol Mansfield (RTI Health Solutions) next joins Ho, and together they discuss how PPI can shape and inform the regulatory decision-making process into approval decisions. Clinical outcome assessments (COAs) are measures that describe or reflect how a patient feels, functions, or survives and have long been part of clinical trials and regulatory submissions – the use of PPI in regulatory decisions has hitherto been limited. Thus, an overview of PPI and how it differs from other types of PED is provided, including observations on the implications for sponsors, including opportunities and challenges.
We also have an interview with Dr Francesco Pignatti, Head of Oncology and Haematology, EMA, who answers questions on how the Agency engages with patients in the regulatory decision-making process and the value of the patient voice in this process. The role of patients (or their representatives) is evolving and incorporating industry/patient partnerships into regulatory decision-making process. He discusses the challenges regulators face when incorporating this patient-derived data into decision-making and how regulators, industry and patients can work together to overcome these challenges.
Regulatory authorities charge fees for the services they provide related to submissions such as marketing authorisations applications (MAAs) and post-approval activities. Research is provided by Charlene Senanayake (Regulatory Affairs Manager, AstraZeneca) aimed to understand the complexity and concerns around the fee calculation and payment process for EU procedures. BBFN[3]
References
[1] Patient experience evidence
[2] Patient-reported outcome
[3] Bye bye for now

Kasia has been working in the pharmaceutical industry, since 2006 in various regulatory affairs roles. Prior to her current Regulatory Intelligence position at UCB, Kasia had diverse responsibilities in European Human Regulatory Affairs lifecycle and development. Kasia received her master's degree in chemistry from the University of Opole, Poland in 2004.
View full Profile