June 8, 2023 - Med-Tech Innovation Conference, Birmingham, UK - Keynote report


The Med-Tech Innovation Conference began its second day with a keynote 'fireside chat' between Dr Paul Bhogal, Consultant Interventional Neuroradiologist at the Royal London Hospital, a centre within the Bart's NHS Trust, and Gianluca Casali, Senior Medical Director at Ethicon Inc., which is part of the Johnson & Johnson group.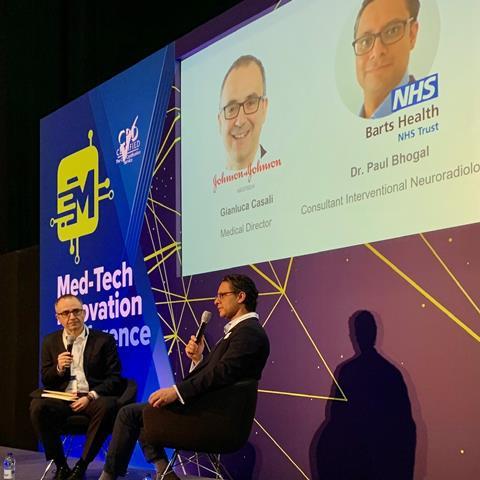 Bhogal is a pioneer in the exploration of applying AI-enabled imaging technology to improve the NHS' stroke care pathway, and in particular the use of a mechanical thrombectomy technique for the rapid intervention of serious strokes.
Bart's NHS Trust sits at the centre of the Brainomix's e-Stroke platform which links the Royal London Hospital with regional sites which refer into it ­– including the Colchester Hospital, Darent Valley Hospital, Maidstone Hospital, Kent & Canterbury Hospital, Ipswich Hospital, and Peterborough Hospital.
"It is essential to get imaging done fast and we have the assistance of AI integration with Brainomix. It allows a consultant to see images on their phone at any location," said Bhogal.
Brainomix's e-Stroke system enables fast, effective and accurate analysis of images. It is a "decision support tool," said Bhogal. The pathway still requires the skills of a radiologist that performs a contrast CT on the patient presenting with suspected stroke.
"We're always looking at patient pathways and trying to make a series of one per cent incremental gains," said Bhogal.
"Reduction of the DIDO time is a major factor in success," of improving patient outcomes. DIDO is the 'door-in, door-out' time between the local hospital and the specialist hub at the Royal London and it is essential to triage patients for surgical intervention as fast as possible.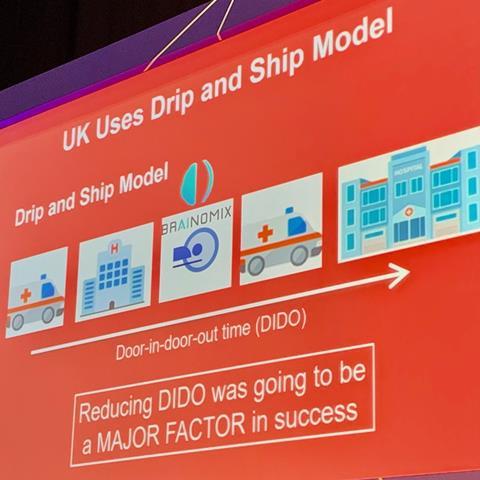 Use of the Brainomix AI system has been shown to reduce the DIDO time by a statistically significant amount – on average – cutting the time by around an hour.
But success for the stroke patient still requires the wider multidisciplinary team to continue to work well together, explained Bhogul.
"It's a question of process optimisation."
Bhogul went on to explain that, in his experience, partnering with industry has led to the avoidance of the silos that can pop-up in NHS – perhaps simply because of different geographical areas – because industry partners offer cross-discipline application and development of existing solutions.
The Bart's regional specialism network for interventional neuroradiology and stroke thrombectomy was set up during the COVID-19 pandemic with low minimal capital expenditure.
"Where there is a problem, there is an opportunity," concluded Bhogal.