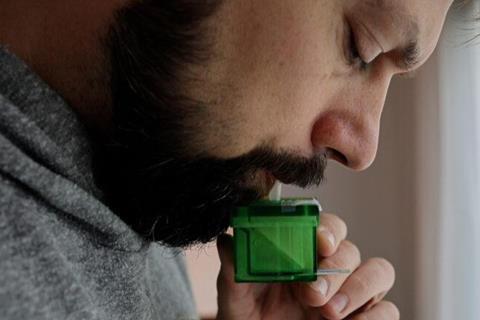 A small, hand-held, COVID-19 test device – developed by researchers from Washington University in St. Louis, Missouri, USA – can detect the SARS-CoV-2 virus from just a couple of breaths and produces results in under a minute.
The test device could be more accurate than the familiar lateral flow tests – used extensively in the pandemic – but also far faster than polymerase chain reaction (PCR) that take at least 15 minutes to produce results.
The device – which was 3D-printed – was initially tested using eight participants. Two were negative for COVID-19 and six had tested positive by PCR. The subjects were asked to breath two, four, and eight times into a flexible tube.
It's as straightforward to use as the breathalyser tests that police officers require of alcohol-impaired drivers.
The breath test study provided no false positive results, with accurate results shown to be obtained after the typical quantity of exhalate in two breaths from each participant.
"This test [means] no nasal swabs and no waiting 15 minutes for results," said Rajan Chakrabarty, PhD, of the McKelvey School of Engineering at Washington University lead author of the study.
"A person simply blows into a tube in the device, and an electrochemical biosensor detects whether the virus is there. Results are available in about a minute."
Using SARS-CoV-2 antibodies from llamas, researchers were able to adapt the test for COVID-19. They study team say the test could be adapted to test for influenza, respiratory syncytial virus or even an emerging respiratory pathogen.
The test was also able to detect different variants of COVID-19, which could be helpful in predicting and identifying surges within a community, the authors said.
"Importantly, the electrochemical biosensor directly detects the virus itself, as opposed to a surrogate or signature of the virus and is sensitive to as little as 10 viral particles in a sample," they concluded in the study.
Y2X Life Sciences, a New York-based company has an exclusive option to license the technology for further development.
Further reading:
https://medicine.wustl.edu/news/scientists-develop-breath-test-that-rapidly-detects-covid-19-virus/
https://abcnews.go.com/Health/fda-authorizes-1st-covid-19-breathalyzer-test/story?id=84099986