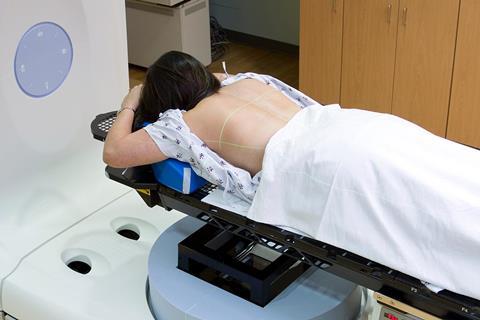 The National Institute for Health and Care Excellence (NICE) has released draft guidance in which it has approved nine artificial intelligence (AI) technologies to aid contouring for radiotherapy treatment in lung, prostate and colorectal cancers. This is the first piece of NICE guidance to recommend the use of AI to aid healthcare professionals in their roles.
The move is set to speed up the time it takes to produce outlines of healthy organs on digital images of CT or MRI scans so that damage to healthy cells by radiation therapy is minimised. Currently this process is undertaken entirely by hand.
Data on radiotherapy delivery in England shows that there were 134,419 radiotherapy episodes in England between April 2021 and March 2022, and a significant proportion of these required complex planning.
Early evidence from NICE suggests that using AI is quicker than manual contouring and it is estimated to save between three and 80 minutes per treatment plan.
The nine platforms approved are:
While the medicines watchdog recommended the use of AI in contours, it said that the generated outlines would still be reviewed by trained healthcare professionals.
Sarah Byron, programme director for health technologies at NICE, said: "NHS colleagues working on the front line in radiotherapy departments are under severe pressure with thousands of people waiting for scans.
"These technologies could decrease the time required to complete a plan, so they are able to use their expertise planning the most complex of cases of radiotherapy or free up time to deal with other patient-facing tasks."
Further reading:
NICE: Artificial intelligence technologies to aid contouring for radiotherapy treatment planning: early value assessment
Artificial intelligence technologies to speed up contouring in radiotherapy treatment planning