Directive 2001/83/EC is the EU legislation specifically covering promotional materials for the pharmaceutical industry – notably, Title VIII Advertising and Title VIIIa Information and Advertising. This is in addition to general consumer protection laws and unfair commercial practices regulations and directives. While Directives are legally binding and directly applicable to all companies. Some granularities can be introduced when it is transposed into national legislation by Member States (MS) individual legislatures.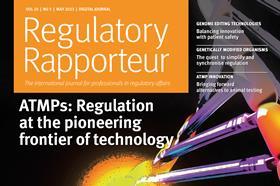 Regulatory Rapporteur
May 2023 | Volume 20 | No.5
Alongside the framework of EU Directive and national mandatory legislation, the pharmaceutical industry also agrees to self-regulate, including subscription to membership bodies such as European Federation of Pharmaceutical Industries and Associations (EFPIA) and national Codes of Ethics. Applicability may vary for non-member companies and although codes of ethics and conduct may not be legally binding, the implications of deviation from these standards can still have serious and damaging consequences.
Defining advertising and promotion
Only medicinal products with a marketing authorisation in a specific country may be advertised in that country, and all parts of the advertising must comply with the particulars listed in the summary of product characteristics (SmPC). Promotion must be accurate, balanced, fair, objective, and sufficiently complete. It must be based on an up-to-date evaluation of all relevant evidence and reflect that evidence clearly. It must not be misleading by distortion, exaggeration, undue emphasis, omission or in any other way, and hence materials must be dated with preparation date (year-month) or the latest revision date.
Advertising of medicinal products (Directive 2001/83/EC): shall include any form of door-to-door information, canvassing activity or inducement designed to promote the prescription, supply, sale, or consumption of medicinal products.
Promotion (EFPIA Code of Practice): includes any activity undertaken, organised, or sponsored by a member company, or with its authority, which promotes the prescription, supply, sale, administration, recommendation, or consumption of its medicinal product(s).
Within Directive 2001/83/EC, the definition includes in particular:
The advertising of medicinal products to the general public.
Advertising of medicinal products to persons qualified to prescribe or supply them.
Visits by medical sales representatives to persons qualified to prescribe medicinal products.
The supply of samples of the medicinal product.
The provision of inducements to prescribe or supply medicinal products by gift, offer or promise of any benefit or bonus, whether in money or in kind, except when their intrinsic value is minimal.
Sponsorship of promotional meetings attended by persons qualified to prescribe or supply medicinal products.
Sponsorship of scientific congresses attended by persons qualified to prescribe or supply medicinal products and in particular payment of their travelling and accommodation expenses in connection therewith.
However, the following are not covered:
The labelling and the accompanying package leaflets.
Correspondence, possibly accompanied by material of a non-promotional nature, needed to answer a specific question about a particular medicinal product.
Factual, informative announcements and related reference material; eg., to packaging changes, adverse-reaction warnings as part of general drug precautions, trade catalogues and price lists, provided they include no product claims.
Information relating to human health or diseases, provided that there is no reference – even indirect – to medicinal products.

It is important to recognise that promotion must not be disguised and materials relating to medicinal products and their uses, whether promotional in nature or not, which are sponsored by the company must clearly indicate that it has been sponsored by the company…
It is important to recognise that promotion must not be disguised and materials relating to medicinal products and their uses, whether promotional in nature or not, which are sponsored by the company must clearly indicate that it has been sponsored by the company. Additionally, where a company pays for, or otherwise secures or arranges, the publication of promotional material in journals, these promotional materials must not resemble independent editorial matter – namely, advertorials are forbidden.
Clinical assessments, post-marketing surveillance, post-authorisation studies or similar must be conducted with a primary scientific or educational purpose – it must not be a disguised promotion – and hence off-label promotion is excluded. Scientific service and medical teams may have opportunities to discuss the product and off label use but never in a commercial capacity.
Requirements for personnel/SOPs
Companies must establish a scientific service in charge of information about its medicinal products to operate in the EU. This scientific service must include a medical doctor or, where appropriate, a pharmacist who will be responsible for approving any promotional material before release. Such a contact person must certify that he or she has examined the final form of the promotional material and that, in his or her belief, it is in accordance with the requirements of the applicable code(s) and any relevant laws and regulations, that it is consistent with the SmPC and is a fair and truthful presentation of the facts about the medicinal product. In some countries, the person responsible for promotional activities must be notified to the national competent authority (NCA).
With regards to retention and traceability, the marketing authorisation holder shall keep available for, or communicate to, the authorities or bodies responsible for monitoring advertising of medicinal products, a sample of all advertisements emanating from the undertaking, together with a statement indicating the persons to whom it is addressed, the method of dissemination and the date of first dissemination. MS have varying requirements regarding minimum retention periods for information being kept available.
Materials targeted to the general public
It is possible to target specific materials to the general public, including Over the Counter (OTC) advertisements, a limited range of prescription only medicines, press releases, corporate materials, brochures, annual reports, and health awareness campaigns, provided that there is no reference – even indirect – to medicinal products, because it then would fall outside of medicinal products advertising rules.
With regards to OTC products, it must be clear that the advertised product is a medicine and the minimum information to be provided includes the product name, active pharmaceutical ingredient (API) name(s), information necessary for correct use (requirements may vary by country) and invitation to read package leaflet. However, it may be prohibited to advertise OTC products if their costs are reimbursed – again a MS-specific decision – and other mandatory claims that may be required under national law.
The adverts shall not:
Offer diagnosis or give impression that medical consultation is not necessary.
Suggest that effect is guaranteed, there are no side effects, that it is better than another treatment or that it might enhance health.
Suggest that health could be affected by not taking the product.
Suggest that product is safe because it is natural.
Be directed at children.
Offer recommendations by scientists, healthcare professionals (HCPs), or celebrities.
Lead to erroneous self-diagnosis by detailed case history.
Use any misleading representation – verbal or visual – of the human body.
In limited situations prescription-only (Rx) products can be promoted to the general public or patient. For example, vaccination campaigns may be carried out by the industry, but they must be approved by the applicable NCAs. Additionally, in some countries – e.g., Finland, Hungary – it is permitted to have patient materials for Rx products, provided the material shall be like a patient information leaflet, and useful for the patient. The recipients of this material are only patients already prescribed the product who may receive the materials from their HCP.
Advertising to HCPs
The definition of an HCP varies between countries, but essentially covers persons qualified to prescribe or supply medicinal products. Hence, when assessment of suitability of advertising is made, the national definition of HCP and the specialty of the HCP should be taken into consideration – eg., the HCP must be authorised to prescribe the advertised product.
Furthermore, regardless of country, all information in promotional material shall be accurate, up to date, verifiable, and sufficiently complete to enable the recipient to form their own opinion of the therapeutic value of the medicinal product concerned. Quotations as well as tables and other illustrative matter taken from medical journals or other scientific works for use must be faithfully reproduced and the precise sources indicated. All references shall be available to HCPs if requested.
Specific materials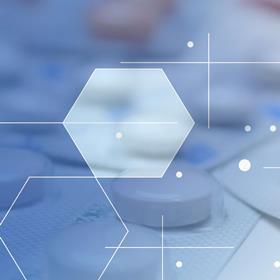 With regards to abbreviated Product Information (aPI), national requirements apply. Mandatory information includes essential information compatible with the SmPC, the supply classification of the medicinal product and the preparation/revision date.
For a comparative advertisement, any comparison made between different medicinal products must be based on relevant and comparable aspects of the medicinal products and must not be misleading or disparaging.
It is essential to remember that gifts are prohibited. Only educational/informational materials and items of medical utility are allowed if they are inexpensive – as defined per national code – and directly relevant to the medical/pharmacy practice but do not offset routine business practices. For example, a pen or notebook, although inexpensive, is deemed standard business practice which an employer should automatically provide as standard – therefore it is classed as a gift. The item needs to enhance service to the patient or customer. The materials may contain the company name but never the brand.
The use of medicinal product samples is generally allowed but with many different national limitations, such as:
Number of samples per year, per HCP.
Length of period for sample supply – from issuing MA, start of marketing, etc.
Samples can only be provided upon written request.
Samples must be smallest available presentation and labeled 'sample – not for sale'.
And must be accompanied by SmPC.
Currently social media carries probably the highest risk, that any interaction by company employees may be considered as promotional material. Personal social media accounts must never be used for advertising medicinal products.
For some products, companies might want to use demonstrator – demo – products. If the demo does not contain API, then it is not a sample, but instead is deemed an item of medical utility, eg., pens for injectors.
There are specific considerations for internet adverts, including access requirements for HCPs, pharmacovigilance requirements if communication from consumers is possible and there are simplified requirements possible for either aPI or an SmPC link. Currently social media carries probably the highest risk, that any interaction by company employees may be considered as promotional material. Personal social media accounts must never be used for advertising medicinal products.
Notifications to NCA and approvals by NCA
Requirements for submissions to NCAs vary widely. For example, no submission is required in Ireland, whereas in Belgium, marketing materials for general public must be submitted to the Ministry of Health – and approval is required for TV/radio adverts, notification of prior publication of other types of adverts – whereas advertisements for HCPs do not require any submissions.
Likewise in Bulgaria, adverts for the general public require prior approval, whereas adverts for HCPs only require prior notification – the NCA issues an ID which must be placed on the advert. In France, all marketing materials whether targeted to HCPs or the general public must be submitted to the ANSM (France's NCA) for approval. In Finland, TV and radio adverts for consumer self-care products are subject to obligatory preliminary inspection by self-governing body. Other adverts to consumer can be submitted on voluntary basis.
In Cyprus, prior approval is not required, but a copy of each ad must be sent to the Ministry of Health– accompanied by information on recipients, method of dissemination, date of first use – alongside their deployment. Careful country analysis is therefore necessary to navigate the individual requirements.
Conclusions
The requirements for advertising of medicines and regulatory body involvement vary significantly between countries. New types of promotional materials are emerging as technology and social media evolve; however, regulation is lagging. These grey areas should be navigated carefully as although some activities might be 'not against the law' they could still result in reputational damage.
May 2023 | Volume 20 | No.5