The profession needs to adapt to the power of technology and the widespread dissemination of misinformation on social media is causing real-world harm.
Chairs:
Daniela Drago, Expert Consultant, NDA Partners, USA
Sabine Haubenreisser, Principal Scientific Administrator, Stakeholders and Communication, EMA
Speakers:
Robert Califf, FDA Commissioner, USA
Emer Cooke, Executive Director, EMA
Christa Wirthumer-Hoche, Head of the AGES Medical Market Authority, Austria
Key points:
The profession needs to adapt to the power of technology.
The widespread dissemination of misinformation on social media is causing real-world harm.
From a practical perspective, the experience of the pandemic necessitated the development of hybrid and virtual inspection processes.
Daniela Drago started the session by asking Emer Cooke, EMA's Executive Director, about the Agency's priorities around public health. Cooke stated that she was pleased to continue the EMA's mandate as Chair of the International Coalition of Medicines Regulatory Agencies (ICMRA) – ICMRA is a voluntary, executive-level entity of worldwide medicines regulatory authorities set up to provide strategic coordination, advocacy and leadership. It aims to strengthen global dialogue and facilitate the wider exchange of reliable information while encouraging greater leveraging of resources and work between agencies. Cooke highlighted that she would like to continue to build the momentum seen over the past two years, post-COVID-19, and ensure that ICMRA's work is relevant. She gave examples of permanent and sustainable actions that are currently taking place:
A pilot project with industry to collaborate with regulators.
Allow hybrid and remote inspections, although there is a need to formalise guidance and procedures in this area.
There is a group looking at platform CTs in emergency situations, where multiple treatments are evaluated simultaneously under one master protocol.
Robert Califf, FDA Commissioner, was asked how the US agency is approaching questions of public health policy. He described how, despite advances in medicines and technology, risk of death still too often occurs due to the widespread dissemination of misinformation. In the US, there has also been a decline in life expectancy due to chronic diseases which are treatable. Califf said that FDA cannot fix the problem, and said that the public has no way to decode whether information, particularly on social media, is true or not. FDA is trying to be more proactive by pre-empting questions that could be asked and developing closer relationships with healthcare professionals and patient groups. It is still early days in the process and there is a lot to do, he added.
Christa Wirthumer-Hoche, Head of the AGES Medical Market Authority, responded to a question on the biggest challenge faced by a national authority by stating she had been leading AGES since 2013 and, in that time, there had been a great deal of digital transformation which had particularly opened up the opportunity to work remotely. The Agency saw an increased workload, especially during the pandemic period, and there has been an increase in the usage of RWD on medicines. The question remains: how can we use this information in MAA submissions and product monitoring? Legislation is constantly changing and so the training of the Agency's assessors and its network must keep pace.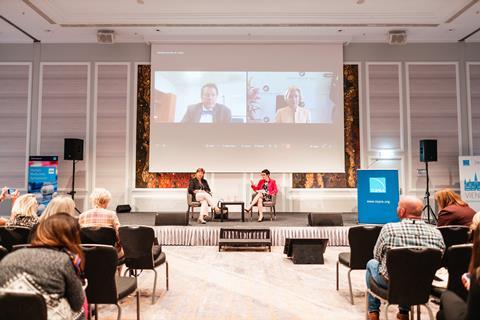 The speakers were then asked how they view the change of evidence generation. Califf started by saying that technology has advanced quickly and is now effectively limitless so regulations need to keep pace. The gap between what we think is effective and what we actually know is widening. He stressed that there is still room for traditional clinical trial data and assessment.
Cooke said that the profession needs to adapt to the power of technology. She spoke about decentralised CTs which introduce new approaches to CT methodology that would seek to make them more accessible and convenient to participants. The EU priority is to accelerate CTs to modernise and improve the process.
On the power of RWD, Cooke said it was used effectively in the post-approval process of COVID-19 vaccines. Stakeholder collaboration is key between industry, regulators and health technology assessors. Cooke also mentioned the EU initiative of DARWIN (Data Analysis and Real-World Interrogation Network) which will deliver RWE from across Europe, to generate better evidence.
Califf said that oncology is a real priority for the US and that evidence and data needs to be generated for rare diseases. Wirthumer-Hoche agreed with the points raised and said it is essential to work on the quality of data. She said that the EU has to work hard and is behind in terms of RWE and data.
Drago asserted that no matter the level of product innovation, ultimately a product still has to reach patients. Cooke was asked what the EMA is doing to make medicines more accessible, and responded by noting that the EMA is working with many stakeholders, including the European Commission, as the issue of accessibility is key to EU thinking. Califf was asked about the accelerated pathways that the FDA has previously pledged to improve, and spoke personally in his answer about the experiences of accelerated pathways via his mother's illness. He stated that the key is to complete follow-up studies after product approval – and that industry is slow to get these done. In summary, accelerated pathways are being supported by FDA but follow-up is slow.
Wirthumer-Hoche was asked what advice she would give to CT sponsors in Austria. She said that sponsors are welcome to carry out CTs in Austria and that AGES is well prepared. She recommended that sponsors contact the national agency to gain scientific advice, especially for ATMPs and complex products.
The panel was then asked to consider innovative approaches used during the pandemic.
Cooke said that the EMA had learned to put confidence and trust into practice. During the pandemic, it was often not possible to perform onsite inspections and the EMA relied heavily on national competent authorities, with hybrid and virtual inspections being carried out.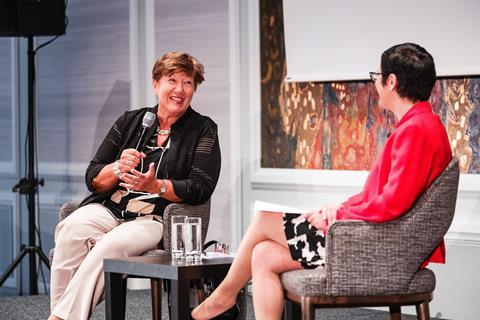 In 2021, almost 600 inspections were done this way by the EMA. They are not perfect and cannot replace onsite inspections, but the Agency is looking to make this permanent. Califf stated that FDA performed 1,100 virtual and hybrid inspections.
Wirthumer-Hoche said that AGES had to think about how to perform its procedures – be it rolling review assessments or remote inspections. There was a question on which procedures would stay but certainly both legislation and procedures should be adapted. Good cooperation is essential between stakeholders, and this should remain. A new process introduced by AGES during the pandemic was the calculation of product demand. This will remain in place in order to tackle emergency situations.
Other notable questions were:
Drago asked Cooke about the EMA pilot project which involved uploading raw data from CTs by regulatory authorities. Cooke noted that this is still being assessed and there is no update at the moment.
Drago also asked about post-market surveillance and patient data. Both the FDA and the EMA agreed that this is a big challenge, especially as the technology is available; however, this needs to be done in an ethical way for patients. Califf said that this is a critical point and if there is a clear benefit people are more likely to share their data; the panel agreed that patients need to know their data is safe and that we must facilitate greater communication.
A short discussion followed on conditional pathways which enable faster access to new therapies for serious conditions that have limited or no treatment. Both EMA and FDA share information on product evaluations regardless of the procedure.
Finally, Drago asked if the scope of Project Orbis could be extended to other therapeutic areas. Both EMA and FDA agreed that it could be possible, and Cooke said that EMA is open reviewing data with other authorities but that its primary responsibility is supporting development of medicines for the EU.