This session focused on the implementation of the IVDR which went live on 26 May 2022.
CHAIR:
Amanda Brown, Head of Regulatory Affairs and Quality, GNA Biosolutions, Germany
SPEAKERS:
Olga Tkachenko, Scientific Policy Officer, DG SANTE, European Commission
Claudia Popp, Roche Head EU Regulatory Science and EMA Liaison, F. Hoffmann-La Roche, Switzerland
Marta Carnielli, IVD Technical Director, Tüv Süd, Germany
KEY POINTS:
Despite the IVDR go live in May 2022, all stakeholders are focused on addressing important gaps, including EUDAMED completion and launch, common specifications, implementation guidance, and NB accreditation.
In parallel, industry is implementing the IVDR into pipelines and marketed products, causing significant challenges. The use of IVDs and companion diag nostics in clinical trials is an acute issue.
There is an urgent need for more guidance and simplification to avoid impacts on innovation in Europe.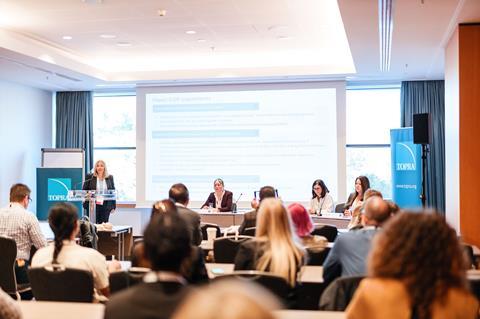 [FROM LEFT] Claudia Popp, Olga Tkachenko and Marta Carnielli
This session focused on the implementation of the IVDR which went live on 26 May 2022.
In the first presentation, Olga Tkachenko highlighted progress made since 2021. This included an important amendment to allow greater time to transition legacy IVDs, a further NB designated under the IVDR, an Implementing Act with CS for 16 high risk IVD types, five guidance documents, two implementing acts for EURL and an open call on EURL sent to the MS.
A lot more remains to be done – not least development of the three modules needed to complete the EUDAMED database by the end of 2023. CS development is progressing, with adoption of hepatitis-E, plasmodium and toxo plasma expected in 2023, and more in the pipeline. IVD expert panels are now in place with 16 views provided to date and their use explored in scientific advice for highly virulent influenza.
EU Reference Laboratories (EURL) verify performance and are needed for Class D IVD batch testing, although IVDs can still be placed on the market in their absence. The Implementing Act for their designation is expected Q3/2023. Tkachenko closed the session by highlight ing the challenges in NB capacity for the IVDD CE-mark transition, but also noted that there is additional NB capacity and that manufacturer applications could be of better quality.
Claudia Popp provided an industry update, highlighting her support of the IVDR intent to ensure that patients are treated with high-qual ity IVDs. IVDR changes are significant, however, as they include a definition of a companion diagnostic, a new risk-based classification, introduction of performance evaluation (PE)/ interventional performance studies (PS) with a higher evidence bar, an EMA-NB consultation process and greater transparency. In addition, although legacy IVDs have deferrals in place for IVDR implementation, there is no deferral for IVDs in development.
The new PE requirements are needed to achieve a CE mark; a pressing challenge since a PE study is needed if a non-CE marked IVD guides treatment in a CT. This has resulted in delayed start dates for CTs. PS approval is complex and involves parallel medicinal products and IVD applications that are not harmonised by MS – an issue compounded by a lack of EUDAMED coordination. Clarity and consistency are also needed (eg., what is a significant IVD change etc).
There is great interest in the implementation of the EMA-NB process for companion diagnos tics, considering NB capacity challenges, which risks missing CE-marks at regulatory approval. There is also a lack of clarity on labelling. Changes to in-house test requirements have a 2028 transition date, but much work is needed to avoid this impacting patient access. Overall, we are at risk of delaying innovation in Europe and urgently need to work on more guidance and simplification.
A range of TD findings were highlighted, including the need for searchability/organisation, challenges in clinical evidence for legacy devices and language requirement issues.
Marta Carnielli rounded off the presentations from the NB perspective. Carnielli explained the NB interface with the expert panels in assessment of Class D IVDs, including some challenges with tight timelines. NB have aligned on what measures are needed until EURL are appointed and what to do if there is no EURL. The EMA-NB process for companion diagnostics is being refined, although the lack of a clock stop in the 60 day procedure means it is critical to respond to the EMA in a timely manner.
Carnielli shared her observations in con formity assessment and audits, but most were in TD assessment. A range of TD findings were highlighted, including the need for searchability/organisation, challenges in clinical evidence for legacy devices and language requirement issues. Carnielli divulged helpful tips for TD literature searches, PE reports and how to manage CS transition.
A lively Q&A followed, where companies discussed the challenges surrounding NB engagement. Tkchenko highlighted 11 NB applications in progress but noted that the timelines are long. Industry audience members stressed the huge challenges for sponsors to meet IVDR requirements for use of IVD in CT and the impact, as most trials using biomarkers for a patient management decision will be affected. Tkachenko said that this was on the radar and noted it as the focus of an MDCG meeting taking place in November 2022. Industry also asked for more MS coordination. The need for companion diagnostic advice was reiterated and Carnielli said that there was a NB group considering structured dialogue without falling into consult ing as they are private companies.
Most issues described are key priorities for all stakeholders at this session. Participants agreed success is only possible with open dia logue and cross-stakeholder collaboration.