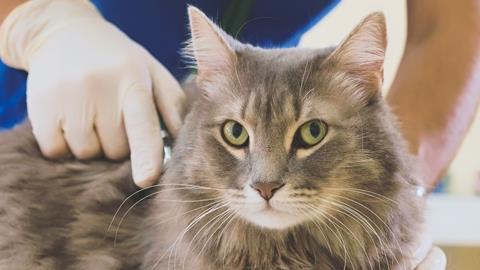 A virulent strain of feline coronavirus has spread through Cyprus, and veterinarians on the island have received a first batch of anti-COVID pills – from a stockpile originally meant for humans – amid efforts to stop the spread of the disease.
Known as 'FCoV-23', the virus was first recorded in January in Nicosia. It spread across the whole island within three-to-four months, according to the Pancyprian Veterinary Association (PVA).
The feline version of coronavirus causes feline infectious peritonitis (FIP) and is spread through cat's faeces. When left untreated FIP is almost always fatal. In Cyprus, the virus has developed a more virulent and infectious strain – with indoor-only pets, as well as the island's strays, falling victim.
The feline virus is not directly related to COVID-19 and is not contracted by humans. However, the active ingredient in the anti-COVID pills – molnupiravir – has proved beneficial to cats diagnosed with FIP.
Cat owners welcomed the Republic of Cyprus' cabinet's decision that it would allow part of the stock of human COVID medication to be used. Molnupiravir is less expensive than the alternative veterinary drug treatments that had been available.
Christodoulos Pipis, the government's veterinary services director, told the Guardian: "We have taken [delivery] of 500 boxes of medication… this is the first batch of 2,000 packs that will be made available. Each box contains 40 capsules… a total of 80,000 [anti-COVID] pills."
The medication, which costs €100 per box, will be delivered to veterinary centres across five districts in the country. Each will receive one hundred packs each, and cat owners with prescriptions from a vet will be permitted to buy the drug.
PVA president, Nektaria Ioannou Arsenoglou, said: "We are very happy that the drug has now been approved. It will give people the ability to treat their cats … it will definitely make a difference."
Further reading:
Cypriot cats to get human Covid drugs after thousands die of feline variant