Reproduced from an online seminar presentation, made in collaboration with TOPRA and Veristat, given on 13 December 2022 by Xavier Luria MD, Michael Paul and Paula Meler of Veristat.
Since the 1990s, the advancements made in the medicines and medical devices industry have been vast – and continue to grow at an extraordinary rate – whether it's ongoing regulatory pathways in paediatrics, conditional approvals and orphan drugs, or the medicines, devices and vaccines innovated in the COVID-19 pandemic.
However, legislation has not advanced at a similar pace, and a revaluation of current regulations is required. One such development includes the introduction of the Medical Device Regulation (MDR) in 2021, and the In Vitro Diagnostics (IVD) Regulation in 2022. As a result, the requirements relating to medical devices and in vitro diagnostics are set to change as per the new regulations over the next few years. Within this article, we look to the changes in legislation which are being prompted by the evolving pharmaceutical environment.
The patient-centric New Pharmaceutical Strategy for Europe was adopted by the European Commission (EC) on 25 November 2020. The objectives are:
To fulfil unmet medical need.
Ensure accessibility and affordability of medicines in all member states (MS).
Support a competitive and innovative European pharmaceutical industry.
Diversify and secure supply chains while being environmentally sustainable.
To ensure a strong EU voice.
This was a proposal for a new Regulation for the industry and the EC published its roadmap on the revision of the general pharmaceutical legislation in 2021. Work has already started and been completed on a number of areas, including the paediatric and orphan review.
Unmet medical need
The New Pharmaceutical Strategy is aimed at prioritising unmet medical need. Procedures such as Conditional Marketing Authorisations, Prime and orphan medicinal criteria, need to define unmet medical need:
"A condition for which there exists no satisfactory method of diagnosis, prevention or treatment in the Union or, even if such method exists, in relation to which the medicinal product concerned will be of major therapeutic advantage to those affected"

Article 4 paragraph 2 of Commission Regulation EC No. 507/2006.
Antimicrobials are also a prime example of unmet medical need and the new EU health action plan – introduced in 2017 against antimicrobial resistance (AMR) – aims to deliver innovative and sustainable responses to AMR in both humans and animals. The key objectives are to make the EU a best practice region, boost research, development and innovation, and to encourage cross-agency and inter-country cooperation. In 2017, a progress report on the AMR action plan was published which highlighted 25,000 deaths in the EU annually with an associated annual cost of 1.5 billion EUR across all MS.
The Orphan and Paediatric legislation review evaluated the impact of the Orphan Regulation and the Paediatric Regulation, both areas of unmet medical need. The novel approach of assessing both regulations together uncovered the fact that the same therapeutic areas were often addressed, a lack of medicinal products and overlapping incentives. Regarding the Orphan Regulation (EC) No 141/2000, its objectives were to foster the research, development and placing of product on the market, and to ensure quality of treatment. Prior to the Regulation, only 50 products were authorised as orphan medicinal products, and a significant number of products were used off-label. The criteria included low prevalence or insufficient return on investment for life-threatening or chronically debilitating conditions, with justified medical plausibility. Furthermore, where no satisfactory treatment exists in the EU, the product in question should provide a significant benefit to patients affected. The current incentives are fee reduction, access to the centralised procedure and, at the time of the marketing authorisation, ten years of market exclusivity.
During the review, it was determined that the Regulation was insufficient in advancing clinical development in areas of the greatest unmet medical need. This was clear from the fact that 95% of rare disease still have no authorised medicines,[1] and only 28% of the 142 EU-authorised orphan medicines target a disease for which there are no alternative treatments. The review also questioned the prevalence threshold since 84.5% of analysed rare diseases have a very low prevalence of less than one in a million whereas most of the population burden of rare diseases is attributable to the 4.2% of diseases in the most common prevalence range (1-5 per 10,000). The review also highlighted the inadequacy of the 'insufficient return on investment' criterion and questioned the accessibility of orphan medicinal products.
The Paediatric Regulation (EC) No 1901/2006 was implemented with the objectives to facilitate high-quality clinical research in children and to ensure that medicines used by children are specifically authorised for such use with age-appropriate form and formulations. Ahead of the Regulation implementation, these were key deficiencies in the European markets. Marketing authorisation holder obligations include the need for a paediatric investigation plan (PIP) or a derogation which should be agreed with the Paediatric Committee, and that compliance is checked at the time of the marketing authorisation application.
If the PIP is agreed and completed, the incentives include a six-month extension of the supplementary protection certificate (SPC), and a two-year extension of the orphan market exclusivity for orphan medicines. The review of the Regulation found a positive increase in clinical research involving children, with most approved PIPs including an average of three paediatric clinical trials, however, most cases were linked to adult development. There was extensive use of waivers (500 waivers and 1,000 PIPs) and deferrals which led to delayed access to medicines and an increase in off-label use. The Regulation was deemed to be ineffective in boosting the development of innovative medicines for children with rare diseases, as there is no specific incentive. Moreover, there was little use of rewards, with only six medicines authorised with Paediatric Use Marketing Authorisation (PUMA) since its introduction to 2018.
With regards to medicinal products for rare disease and ease of accessibility to medicine in EU, the review also proposed variable duration of the market exclusivity period – dependent on novel nature of product – changes to the criteria for orphan drug designation and novel incentives for products addressing unmet need in rare diseases and rare paediatric disease. In terms of medicinal products for paediatric diseases, proposals included modification to the current reward system including linking the six-month SPC extension reward to place the product in most/all MS or to medicines addressing unmet medical need, in addition to further exploration of the paediatric-use marketing authorisation – PUMA scheme– and novel incentives for products addressing unmet medical need.
Ensuring accessibility and affordability of medicines
Not all authorised medicinal products are marketed in all MS due to national pricing prioritisation, population size and demographics. The EC will review the system of incentives and is expected to link some incentives, discussed above, to place the authorised medicinal products in all MS. Generic and biosimilar medicinal products can be both accessible and affordable and expand the range of patient treatment options. The EC is considering targeted policies to support provisions for generic and biosimilar entries to market to allow for further competition within the EU.
In terms of affordability, the decisions on pricing and reimbursement are made at national level within the EU, however, there are proposals to revise the pharmaceutical legislation to make it more conducive to competition and reinforce affordability in the EU pharmaceuticals market. The EC is currently (2021-2024) setting up a group to facilitate and steer cooperation between national competent- and pricing-authorities on pricing and reimbursement to exchange information on sustainable health systems, cost-effectiveness, payment, procurement policies and affordability.
Innovation and digital transformation
Future objectives that encourage the growth of a more competitive and innovative European pharmaceutical industry include:
COVAX: A vaccine platform to deliver and monitor the effectiveness and safety of vaccines globally, supported by an EU-wide clinical trials network.
The 1+ Million Genomes Initiative: Personalises medicines, gene and cell therapies, and aims to facilitate an appropriate technical infrastructure to identify appropriate molecules when encountering future pandemics – currently entering escalating scale-up phase, and France and Ireland have recently joined.
EXSCALATE4COV: The most powerful super-computing artificial intelligence (AI) platform backed by the EC.
AI has significant impact in relation to patient identification and establishing enhanced and more economical inclusion criteria. Early engagement with competent authorities and the EMA is encouraged due to the complex and novel benefit-risk profile discussions which are required. There are several EU Medicines Regulations networks which have already been established, including an EMA Task Force on Data Analytics and Methods, a Digital Transformation Centre of Excellence which aims to build regulators' understanding of AI, and the International Coalition of Medicines Regulatory Authorities Innovation Network which has recommendations on AI.
Combination products are another key focus for innovation, including both integral (eg, prefilled syringes/inhalers) or co-packaged (eg, reusable injectors for delivery) medical devices, and introduction of the new MDR (EU 2017/745) and IVD Regulation (EU 2017/746).
Looking at alternative routes to innovation, the EMA and Heads of Medicines Agencies (HMA) launched a pilot project in 2021 to support the repurposing of medicines as a follow-up to the Commission Review of Safe and Timely Access to Medicinal Products (STAMP). Support is available for not-for-profit organisations and academia to generate sufficient data to establish formally approved new indications. This is part of the wider plan for advancing regulatory science over the next five to ten years and a concluding report is planned. New methods of evidence generation and assessment are also of interest, with the optimal three-pillar framework of operational, technical and methodological real-world evidence (RWE)/data generation.[2] This will be implemented through the Big Data Steering Group and updates available via the EC website. Box 1 provides a breakdown of the EMA 11 workstream workplan leading to 2025.
The new pharmaceutical strategy for Europe – looking forward
Pharmaceutical industry innovation has a number of pivotal elements:
Curative therapies – cell and gene therapies are significantly altering the landscape of chronic diseases and are difficult to treat as they are removing the need for long-term treatment.
An agile approach, particularly post-pandemic.
Precision medicine – personalised treatment – and additive manufacturing which allows for tailored pharmacokinetics and dosing.
Artificial intelligence.
Real world data and evidence.
Repurposing.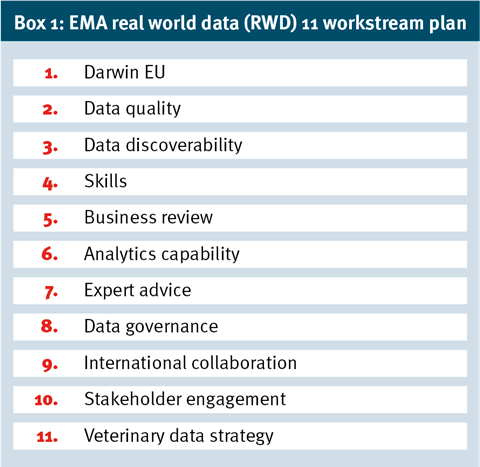 These elements are all underpinned by the need for cybersecurity. Ultimately, the vision is a stronger European regulatory landscape. This would have a positive impact on patient safety, clinical efficacy and safety, inspections, and generating high quality, efficacy and safety standards with focus on inspections and GxPs. This should facilitate strong, fair and open trade which is attractive for business.
Conclusion
In order to advance, resilience is required, and a strong supply chain needs control, visibility, collaboration and flexibility. Key aspects of a resilient organisation include a steady foundation and values – enabled by means of organisational structuring and securing the right leadership, with good strategic planning, strategic milestones at the right time, and a handle on managing supply and demand appropriately.
Lessons should be learned from the pandemic in terms of timeframes and workload, to expedite the development of vaccines and in initiating clinical trials, for example, introducing RWD and RWE into clinical development and regulatory decision making. It is also important to recognise that incentives and rewards are the foundation on which innovation is built and that intellectual property is key.
There is still uncertainty which is unlikely to be resolved before the end of 2023 due to the challenges facing all stakeholders. However, there is a desire to converge with global regulatory experts including the FDA, Health Canada, the MHRA in the UK, the EMA and EU national agencies.
References
[1] https://health.ec.europa.eu/system/files/2020-08/orphan-regulation_eval_swd_2020-163_part-1_0.pdf
[2] Arlett, P., Kjaer, J., Broich, K., & Cooke, E. (2022). Real-World Evidence in EU Medicines Regulation: Enabling Use and Establishing Value. Clinical pharmacology and therapeutics, 111(1), 21–23. https://doi.org/10.1002/cpt.2479