Latin America (LATAM) is a large market with considerable promise for pharmaceutical growth, with a total potential patient population of more than 600 million people. The landscape in Latin America is changing quickly with demand growing as populations age and chronic diseases become commonplace.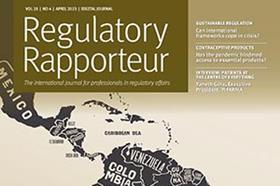 Regulatory Rapporteur
April 2023 | Volume 20 | No.4
In this issue, we focus on challenges and opportunities for registration and post-approval variations in LATAM, the new API Regulatory Framework in Brazil, an overview of the LATAM framework for advanced therapy medicinal products (ATMPs), and have an interview with FIFARMA — the association representing the pharmaceutical industry in Latin America. We also include two articles on lessons from the COVID-19 pandemic, tackling the theme through varied perspectives. This month's issue then closes with an overview of product-specific regulatory guidelines in India.
The landscape in Latin America is changing quickly with demand growing as populations age and chronic diseases become commonplace…
This month's LATAM focus pieces include an article which identifies the critical challenges for pharmaceutical drug registration and post-approval changes in six major LATAM countries based on the review of guidelines and practices. The article also compares with EU and US practices and identifies recommendations and opportunities for improvement in local drug registration and post-approval change guidelines and procedures.
In March 2020, Brazil published their new regulatory framework for active pharmaceutical ingredients (APIs). The market is currently in a transition period which concludes in August 2023 when the new pathway will become the only available option. In our next focus article, we walk through the history of this new framework and understand what it means for API registration in Brazil.
Our third focus article walks us through the evolving regulatory framework for ATMPs in LATAM, compared to the EU and the US as more mature regions, and highlights where requirements specific to ATMPs have been developed versus the need to rely on existing texts, from product manufacturing, clinical trials, and regulatory registration to lifecycle management.
We also sit down this month with Yaneth Giha, Director General of FIFARMA, who explains the Association's focus and mission within the LATAM healthcare industry, and also shares with us the key changes in the market.
In addition to the LATAM focus, this issue also reviews the lessons learnt from the global COVID-19 pandemic. One article discusses reliance procedures and ponders the question of whether a more sustainable regulatory network is needed for the future, to prepare for the next healthcare crisis and to improve patient access across the globe.
The next article highlights challenges of complex product registration superimposed to the global pandemic context through the case study of a drug-device combination product for contraception registered in three East African countries.

Marie Deneux is in charge of defining and executing the regulatory strategy for the development and registration of Lysogene's gene therapy products. Prior to joining Lysogene in 2019, Marie spent 15+ years in consulting. Involved in the development of biotech products, NCEs and repurposed drugs, Marie has extensive experience in interactions with FDA, EMA and national health authorities.
View full Profile